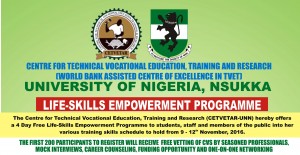 CENTRE FOR TECHNICAL VOCATIONAL EDUCATION, TRAINING AND RESEARCH
(WORLD BANK ASSISTED CENTRE OF EXCELLENCE IN TVET)
UNIVERSITY OF NIGERIA, NSUKKA
 CETVETAR-UNN LIFE-SKILLS EMPOWERMENT PROGRAMME
The Centre for Technical Vocational Education, Training and Research (CETVETAR-UNN) hereby offers a 4 Day Free Life-Skills Empowerment Programme to students, staff and members of the public into her various training skills schedule to hold from 9th – 12th November, 2016.
 THE FIRST 300 PARTICIPANTS TO REGISTER WILL RECEIVE FREE VETTING OF CVS BY SEASONED PROFESSIONALS, MOCK INTERVIEWS, CAREER COUNSELING, FUNDING OPPORTUNITY AND ONE-ON-ONE NETWORKING
GENERAL TRAINING
 Entrepreneurship
Creativity and Innovation
Business Plans and Proposal Writing
Public Relations
Salesmanship
Financial Management
Customer Service
Office Management
UNIT A: ARTS/CULTURE/ENTERTAINMENT
Hats and Caps Making
Decoration
Bead/Necklace
Paint Making
Fashion Styles and Designs
Customization
Ankara Crafts
Leather Works (Shoes/Bags)
UNIT B: BEAUTY CARE AND COSMETOLOGY
 Hair Dressing
Braiding/Weaving
Cosmetology (Production of Cosmetics, Soaps, Perfume etc.)
Beauty Care (Pedicure, Manicure etc.)
UNIT C: FOOD PROCESSING AMD PRESERVATION
Cake and Bread Making
Food Packing/Branding
Fruit Juice Making
Custard Making
Yoghurt and Ice Cream Making
Meat Pies/Snacks Making
Food and Drink Preservation
UNIT D: BUILDING & WOODING RELATED
Wood Processing
Carpentry
Aluminum Works
Plumbing
UNIT E: ICT SKILLS
System Maintenance
MS-Word Office Suites
Email Processing
Social Media Networks
Web Content Management
Graphic Design/ Blogging
Troubleshooting/Installations
Professional Internet Research
Publications
DATE: 9th – 12th November, 2016   TIME: 12noon – 5pm Daily and Saturday 8am – 4pm
VENUE: Centre for Technical Vocational Education, Training and Research, UNN
Participants should visit the link to complete their registration http://cetvetar.unn.edu.ng/skillsandraining Or pick the Registration Form at the Office (2nd Floor, Faculty of Education). Should you require further information, you may wish to contact us at cetvetartrainingunn@gmail.com or call: 08056637151, 08037786310, and 08064451455 (#2000 Covers Participant's Certificate, Tag, Pen and Training Materials). ALL PAYMENT SHOULD BE MADE TO THE DESIGNATED ACC NAME: CTR for Tech. Voc. Educ. Training & Res., BANK NAME: Zenith Bank Plc ACCOUNT NO: 1014212371. Accreditation commence on Wednesday November 9, 2016 by 7:00am – 11am.
CETVETAR-REGISTRATION-FORM FREE
(Signed)
Prof. Emmanuel, C. Osinem,
Director, CETVETAR-UNN